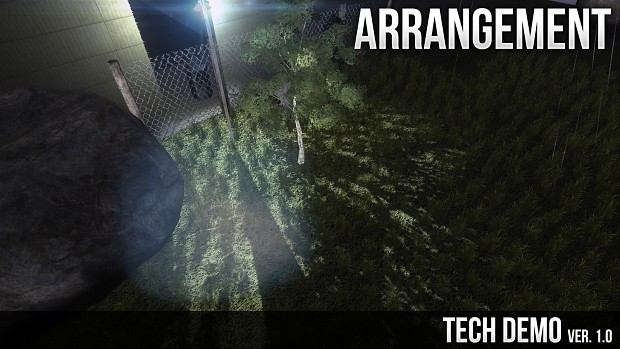 One of our hosted projects has released a tech demo on Mod Db back in December of 2016.
If you haven't checked it out yet, you can grab a copy of it here.
http://www.moddb.com/mods/half-life-1-arrangement/downloads/half-life-arrangement-tech-demo-ver-10
Not the full release of the game! Today we bring you this small tech demo, so you can see first hand a glimpse of what AM would contain. Idea for this release is to find bugs and issues with different PCs before the final version. Bugs will be expected!

/!\ WARNING /!\

We CANNOT guarantee this tech demo will work under WON (and community made variants) and the Xash 3D engine. The same warning goes to people using pirated/cracked/modified/LAN Steam versions of Half-Life. In other words, if you want the best experience of this tech demo, consider using Steam Half-Life 1.

/!\ WARNING /!\

It's been a while.
Before you go super excited, this is not, by any means, the full release of the game.
While that might sound like a boomer, you would have the chance to check out what we've been doing the last couple of years.
This is not the first or the last release, but perhaps the most important one in over a decade. An incredible amount of hours, effort and passion put together by over 50 people to make this mod possible, and today we bring you this small tech demo, so you can see first hand a glimpse of what AM would contain.

INSTALLATION
Using your favorite archive software, extract the "AM" folder to "$SteamLibrary\steamapps\common\Half-Life" ($SteamLibrary represent the path of your Steam library where Half-Life is installed, unless you changed your Steam settings, it should be by default : "C:\Program Files (x86)\Steam")
Restart Steam.


HOW TO RUN AM
AM needs Frame Buffer Objects disabled (otherwise expect graphical glitches)
You can launch the mod via "$SteamLibrary\steamapps\common\Half-Life\AM\Launch.bat"
Or in your Steam game library, right-click on "ARRANGEMENT" -> "Properties" -> "Set launch parameters" and just type -nofbo


HOW TO PLAY
Just select 'Go to HUB' in game menu.


MULTIPLAYER
Multiplayer sort of... works, however it's not fully supported. If you are an advanced user, you can host and let other players connect to you. There are a few glitches but it's playable. In the future, the multiplayer version will be tweaked up to a stable point so you can play some random maps in COOP mode, but don't expect new complex game modes.


ISSUES
While I tried my best to polish this release, there are still a few issues that will be addressed in the future.
Prop lighting can get weird sometimes.
Some high definition textures are missing. This could cause some visual quality discrepancy between weapon models, for example.
Couldn't enable RainbowOS and the keypad for this version. Will be present on next one.

FURTHER MODDING AND YOU
My idea is to have content that can be easily changed outside the code, to speed up development. That means, the end user can also tweak that content. There are a few things you can quickly add or edit in order to further customize your game. Those things are:
High definition textures
Music
Particles
Shaders
Weapon settings

A few last personal words.
While AM might not be the best mod out there, it is, of course, a life changing project that shaped my last decade, set my present and will be, forever, the foundation of a successful game dev carreer that gave me amazing things I'd never have imagined. I found my passion, countless friends across the globe and the will to partake other projects, where I found my fiancee.
But any of that would have been possible without you. Whoever you are, you beatiful shapeless human, you did choose to write a few encouraging words to a kid, a decade ago and you continued doing so. These words were the oil necessary to burn for years. And now this kid is a men and couldn't be more grateful because this wasn't supposed to happen, but it did, and I just can't be more happy than he is today. So, thank you.
0 comments
|
Write Comment
---
Greetings all,
For those of you that remember Podcast 17 was a show hosted by many Half-Life personalities and had some great interviews of mod teams of the day. The podcast hasn't been active in some time, but recently the hosting for it ran out. We at HLC have stepped in to help and have agreed to host the website and all the episodes so that more generations can continue to enjoy what Podcast 17 had to offer.
Give them a listen at
http://www.podcast17.com
Cheers,
3 comments
|
Write Comment
---
It must seem crazy to have two updates so close together after such a long period of radio silence but here we go!

We have added a new section to the forums called Declassified Projects, there is where we have been getting back in touch with former mod makers that we know either have materials sitting on the cutting room floor or incomplete projects sitting on their hard drives. We have been reaching out to them to release what they might have to the community. In some cases, many years have past, situations change and we are encouraging any mod makers that might still be safe guarding content to share before it is lost to the community forever in a hardware failure or who knows what.

On a lesser note, our Steam Community has gone through a small update as well and we are now a curator. Be sure to check out our gaming section of the forum to post your suggestions on what we should add to our curation section.

Lastly, I am currently testing a file upload system for content creators. It is a very simple script that gives you access to a folder on a sub-domain where you would be able to upload your content to hyperlink out to wherever you release your content. Files 64mb and below can be uploaded without the use of FTP. If you are a content creator and the forum attachment system doesn't do it for you, get in touch with me and I will set you up to test this new system.

Cheers to all,
2 comments
|
Write Comment